Check Out
ACT to foster happiness, peace, prosperity, and tolerance in the Middle East
Apple iPhone Facts
I am a big fan of this phone! On Tuesday, January 9th, 2007 and at the Moscone Center in San Francisco, California, Steve Jobs, head of Apple, announced to the world iPhone. The revolutionary smart phone is definitely going to change the way we think of cell phones. Below are some tips, information, fun facts, cool features, specs, and other related information about this amazing product.
The iPhone is a Smart Cell Phone, IPod, Internet communications device, and Digital Camera in one device.

The iPhone has sensors that enable it to change automatically the direction of its screen from portrait to landscape based on the vertical or horizontal alignment of the phone.

The IPhone controls are based on touching the screen by your finger. No more buttons. Software replaces hardware.

The iPhone has proximity sensors that would prevent you from activating certain features on its screen by your ear while talking and also turns off the screen display when close to your ear to save power

iPhone even has sensors to adjust the light of the screen based on the light of the surroudings

iPhone becomes an iPod with few touches. The 3.5 inch widescreen is amazing in browsing through your iPod content from videos, to music albums, to TV shows, to movies, to photo albums, to audio books...

The iPhone has a 2-megapixel camera and a photo software that enable you to sync, browse, email, and control pictures better than any other smartphones.

The phone is 4.5 (115 mm) inches high, 2.4 inches wide (61mm), and 0.46 thick (11.6mm).

You can make calls by just touching the screen and selecting numbers or names from your address book or call list.

You can check your voicemail by browsing your voicemails by sender, or time, or other features. Just like email. Gone are the days where you have to go listen to all your voicemails in order to listen to the voicemails that matter to you.

Apple had Cingular to change its wireless infrastructure in a way that would enable the use of the IPhone features like the ability to browse the voicemail on the screen.

In the day that the IPhone was announced, other cell phone and smartphones makers companies' shares tumbled. Apple stock (AAPL) went up 8% while Research in Motion stock (makers of Blackberry) went down 7%. Other companies like Motorolla, Nokia, Ericsson, Samsung, Panasonic, Phillips, Siemens were also affected
Cisco Systems owns the trademark for the name "iPhone" and it Cisco sued Apple for the infringement. Apple and Cisco are actively negotiating a compromise.

You can unlock the iPhone with a flick of a finger.

On the same day iPhone was announced, the company changed its name from Apple Computers to Apple Inc to reflect the expansion in its consumers outreach

For sending SMS, short messages, the iPhone screen becomes a predictive QWERTY that corrects your mistakes.

The email application is applicable to most IMAP and POP3 emails

Apple's Safari web browser on the Apple iPhone enables you to see the web pages closer to the way they are designed to appear on regular computers.

You can sync your favorites from your laptop or desktop with the iPhone

iPhone has an integrated mapping software based on Google Maps that is simply amazing!

iPhone wireless technology is based on quad-band GSM.

The iPhone supports Cingular's EDGE network, 802.11b/g Wi-Fi, and Bluetooth 2.0 with EDR, which links to Apple's Bluetooth headset - compare with Motorola's and other headsets.

The phone will cost $499 for the four Gigabytes model, 4GB, and $599 for the eight gigabytes model, 8GB.

The phone will be available in the US Market in June of 2007. Europe and Asia will follow in year!

Because of its exclusive agreement with Apple, Cingular Wireless, is poised to have a competitive edge of other cell phone providers like Alltel, AT&T Wireless, CellularOne, Cricket, MetroPCs, Nextel, Qwest, Southern LINC, Sprint PCS, T-Mobile ( A1 Wireless Cell Phone Plans ) , U.S. Cellular, Verizon Wireless, and Virgin Mobile.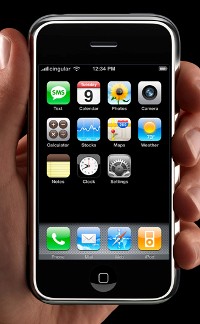 Up
21st Century Lifelessness
Animals Interesting Facts
Apple iPhone Facts
Arab Fun
Brief guide to Australia
Best Bumper Stickers
Chat Room
Chinese Calendar
How Companies Got their Name
Humans Interesting Facts
Interesting Questions
Fun Eyes Test
Fun Links
Funny Pictures
Fun Personality Test
Funny Computer Tricks
Funny General Pictures
Funny Pictures
Funny Riddles
Funny Video Clips
Funny Video Clips
Funny Waxing Alternative
Great Animal Pictures
Great Sunsets Pictures
Great Truths
Great World Pictures
General Interesting Facts
General Quotes & Movie Lines
Interesting Photos
Interesting Laws
Interesting Videos
Item of the Day
Obelisk Inspiration
:-) Jokes :-)
Language Interesting Facts
Lebanese Decadence
Lebanon Interesting Facts
Letters Puzzle
Letters Puzzle
Mental Abilities Challenges
More Amazing Facts
Numbers Fun Facts
Optical Illusions
Optical Illusions 2
Optical Illusions 3
Pre-School Test for U
Phrases for Work
Quotes by Great Women
Quotes by Wise Old Men
Riddles
Seen On T-Shirts
Sillies
Smile
SMS Abbreviations Meaning
Someone and you
Song for Bush
Statistics about Sex
Strange but true coincidents
Super Silly Quiz
Tips for Managers
Tongue Twisters
Twisted Fun Thoughts
Time Fun Facts
Unofficial Smiley Dictionary
Valid doubts
Viral Email Health Tips